Olde Homestead Golf Club proudly offers an award-winning 18-Hole Championship Course which is open to the general public. With continuous cart paths that literally go over the river and through the woods, along with some that follow the rolling hills of Pennsylvania's countryside, Olde Homestead's 18-Hole Course is truly one to be seen. This links-style course is also home to several aspects of Olde Homestead's ancestral heritage including a summer kitchen from the original 1700's homestead, a restored one-room schoolhouse, and a pair of drive-through corn cribs.
Olde Homestead's 18-Hole daily fee course was designed by Jim Blaukovitch Associates and opened in 1995. Each hole features five tee boxes making the course fair and enjoyable for scratch golfers and high handicappers alike. Our rye-grass fairways are fairly wide and trees are typically not a factor in play. Greens are medium speed with a fair (but not excessive) number of green-side bunkers.
Challenges include water hazards, which come into play on 10 of the 18 holes, and undulating bent-grass greens, many with three tiers. The course features an above-average number of fairway bunkers and a defined cut of deep rough which can add strokes to your score if you're not careful.
18 hole Championship
Course Overview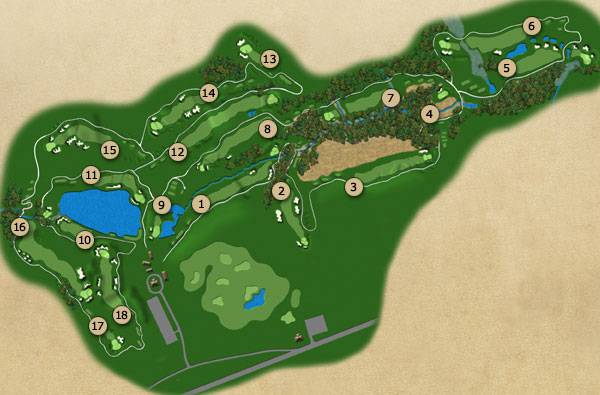 In 2002, Olde Homestead Golf Club added a 9-Hole Par 3 Course to it's growing facility. Located in the northern-most corner of the 18-Hole Course, this compact links style course provides a tremendous venue to practice your short game. The Par 3 Course also provides an ideal location to learn the game of golf. The course has been certified as a Beginner Friendly Course by the National Golf Owners Association. Make sure you have a full set of irons when you tackle this course though. Holes range from 86 to 208 yards. The Par 3 Course is a walking course but pull carts are available to rent or you can bring your own.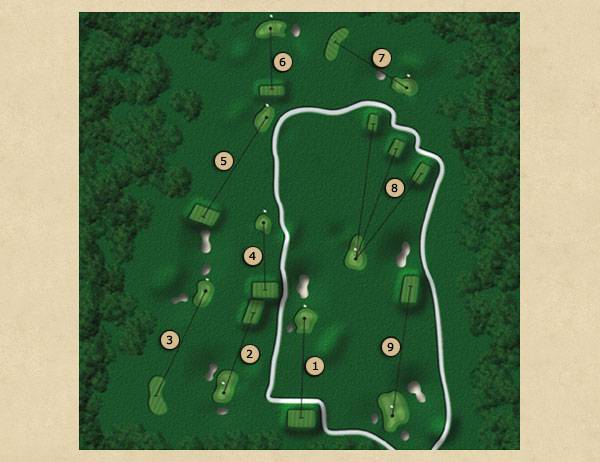 To get the most out of your Olde Homestead experience we recommend that you play from the tee box that most closely coincides with your level of play. So decide which tee box is right for you:
Trailblazer
Recommended Handicap: 0 – 6
72.5 rating
132 slope
6,710 yards
Pioneer
Recommended Handicap: 7 – 12
71.4 rating
128 slope
6,419 yards
Homesteader
Recommended Handicap: 13 – 19 
68.6 rating
124 slope
5,952 yards
Settler
Recommended Handicap: 20 – 26 
Men                                          Women
66.9 rating                                71.0 rating
117 slope                                 129 slope
5,375 yards
Frontiersman
Recommended Handicap: 27+
Men                                          Women
64.4 rating                                68.4 rating
112 slope                                  124 slope
4,907 yards
USGA RULES GOVERN ALL PLAY EXCEPT WHERE MODIFIED BY THE FOLLOWING LOCAL RULES:
All paved surfaces, bridges (outside of a penalty area), buildings, newly planted staked trees, 150-yard grasses, and fences not surrounding the course are immovable obstructions.  Relief: One club length from nearest point of relief, no nearer the hole, without penalty.
All un-mowed areas may be played as lateral penalty areas.
Player must proceed to designated drop area after hitting tee shot into penalty area on hole #4.
FOR THE ENJOYMENT OF ALL GOLFERS PLEASE OBSERVE THE FOLLOWING:
Player assistants and starters are provided for the benefit of all golfers. Golfers must follow their instructions.
Replace divots, repair ball marks on greens, and rake bunkers after play.
Golf carts must stay on path around tees and greens, all par 3s, and hole #7.
Wetlands are protected. PLEASE DO NOT DISTURB! Players may not play out of protected wetlands.
You are responsible for keeping pace with the group in front of you. Please play without delay.
Soft spikes only.
The most technologically advanced Golf Car and GPS system are now here. Olde Homestead Golf Club represents the only golf course in the Lehigh Valley to have this state-of-the-art system. The new GPS system is called Visage and it is the most powerful GPS system in the world of golf.
 Golfers can now lower their scores with visuals of Olde Homestead's layout and precise distance data. Visage helps improve play by providing detailed graphics of each hole on the unit's screen and giving measurements in Differential GPS (DGPS) rather than standard GPS. (DGPS gives you more precise distance measurements). The full course graphics and the precise distance measurements help take the guesswork out of club selection and help to lower scores.
Newsletter Sign-up
Follow Us and Stay Connected
Stay up to date on our latest news & events